"Food for The Body is not enough . There must be Food for Soul "
On a bright Wednesday afternoon while working , there were weird food thoughts running through my head ! To tell you the truth I really wanted some breathtaking food for soul . When at work , I only get to eat fried rice , Idli or Dosa ( South Indian Dishes ) , so decided to go to a fancy place to feed my pretty soul .
After an intensive look at all the interesting restaurants that Zomato wanted me to head to , I decided on SodaBottleOpenerWala ! Yayy !! Had heard a lot about this place from my friends but never got a chance to visit this lovely place.
I was just trying out my editing skills with this image. Personally loved the trippy image !
I was a bit too late for lunch time since it was already 3pm working , so I hurried up to head to SodaBottleOpenerWala on Lavelle Road which was closer to my work place . The moment I entered , I was enchanted by the décor of this alluring restaurant . SodaBottleOpenerWala is situated right behing The Bierre Club on Lavelle Road .
So , there are few regulations to be looked upon when you visit this place !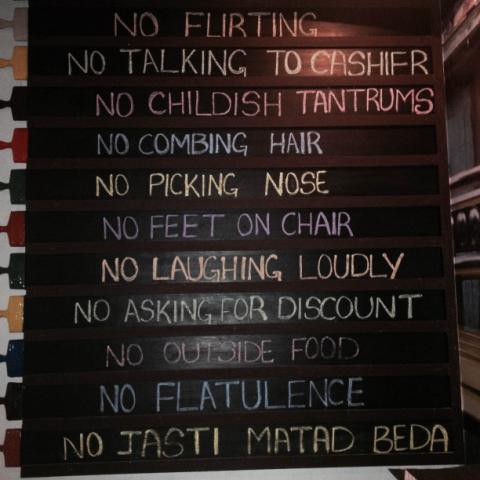 Just for fun 🙂
This place had a total old rustic Parsi look which was charming for sure . They had this toy train attached to the ceiling and the train kept running around the loop all the time . Coming back to food story , I was desperately in need of good food . The server got us the fascinating menu card.
We ordered for some drinks to start with . I was curious to see Bhau Ju Nu Thuulu Cocktail on the menu . So I ordered that and my friend ordered for a Bawa Peg .
Well , my drink , Bhauji Nu Thullu came with this sweet cigarette designed mint candy .
For starters , we ordered for The Goan Sausage Pav and Masala Fries with Cheese which was delectable . Everyone should know I am a Potato Freak ! Lol !!
We did not give up here . Especially I needed more food in my tummy . We then head to the main course section , and ordered for some Berry Berry Chicken Pulao delightful . Some people I know dont eat rice without Raita ( Raita is an Indian , Pakistani and Bangladeshi side dish made with curd together with raw or cooked vegetables) but the chicken minced with the rice was semi gravy , which was a really good combination with some fried onions and cashew as toppings . Slurrp !!
Me being me , wont leave a place without having a dessert ! Like they say no matter how much you eat , "there's always space for some dessert" . Chocolate makes me super happy . And I ordered for the Toblerone Mousse . I finished the mousse in 15 seconds to be precise .
Finally , my soul and my mind was in peace .